Hey! I got an email with this infographic showcasing different goth festivals and was asked if I wanted to post it on my blog. I'm a sucker for infographics, and I love goth festivals (duh)!
So here it is! Hopefully you get to know some new festivals, maybe even in your area!
I can think of even more festivals, but it's still a pretty good list! Have you been to any of these?
Thank you to Blue Magik for making this! Check out their social media listed above.
In other news, I was awarded a special award; top goth fashion blog! Now that's pretty cool. So now I get to wear this medal on my blog! That was pretty unexpected. I didn't think my blog was considered that good or even well known! I did start this blog to show babybats that goths don't look super amazing every day (I've kind of fallen off showing every outfit, cause I've already shown most of my articles of clothing on here), and share some information about goth culture.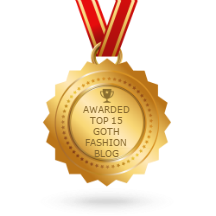 Hello, Valentin!
Click
here
to check out the entire list!
Thank you so much for adding me to the list!